Abby Beissinger joined NRE to be the Natural Resources Conservation Academy (NRCA) Conservation Ambassador Program (CAP) Coordinator as an Assistant Extension Educator in February 2017. The NRCA engages high school students, conservation volunteers, and teachers in environmental education and service learning programming, where participants execute a long-term conservation project in their own towns throughout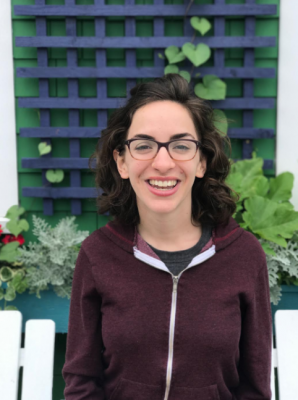 Connecticut to create lasting contributions to their communities.
Abby provides her knowledge to the application of science in a hands-on way. She says, "I really enjoy talking to folks about the NRCA because it is a great example of how to put science into practice, and translate classroom topics out into the field." Abby elaborated on how she loves the transformative power our field experience can have on students, and how many "firsts" it often provides. In many cases, it exposes students to their first time hiking, wearing waders, holding a fish, starting a campfire, using a shovel or saw, and using field instruments.  Abby is interested in exposing more students to these authentic and outdoor experiences so there is greater chance of instilling in them a land ethic and the desire be stewards of our environment.
Abby attended the University of Wisconsin and received her B.A. in Anthropology in 2011. In her undergraduate studies, Abby focused on agriculture, sustainable development, and youth programming. She studied cultural anthropology and implemented sustainable development projects in Costa Rica, Mexico, and Uganda. After graduation, Abby managed environmental and urban agriculture programs for youth in Massachusetts and Chicago before beginning graduate school.
In 2016, Abby graduated from Washington State University with her M.S. in Plant Pathology. Her research focused on the management of Potato virus Y, a plant virus that caused more than 40% yield losses for seed potato and commercial potato growers in western Washington.